Keeping the Community Informed
This webpage is dedicated to keeping the community informed about an upcoming PENNDOT's public safety improvement project for Bethlehem Pike. Visit this page often for the most recent information from PennDOT on the improvement project, timelines, traffic information featuring the project, and future meeting dates in which the project will be discussed.
Residents can share their thoughts and/or concerns about the Bethlehem Pike Safety Improvements by clicking the button below and selected "Bethlehem Pike Safety Improvements" as the topic in the dropdown menu. 
Public Information Meetings
THURSDAY, MAY 26, 2022 at 7PM
A public information meeting will be held to provide an overview of PennDOT's Highway Safety Improvement Program on Bethlehem Pike at the Springfield Township Administration Building (1510 Paper Mill Road, Wyndmoor, PA 19038). The meeting will take place on Thursday, May 26, 2022 at 7:00 PM. 
About the Project
PennDOT will be modifying Bethlehem Pike in Springfield Township from Stenton Avenue to Sunnybrook Road as part of its Highway Safety Improvement Program (HSIP). The project will improve the safety and navigation of Bethlehem Pike, including:
Converting Bethlehem Pike from a four-lane roadway to a three-lane roadway with a two-way center left turn lane
Modifying traffic signal phasing and timing
Upgrading traffic signal equipment to improve pedestrian safety and vehicular visibility
The improvements proposed for Bethlehem Pike are also referred to as a road diet. A "road diet" is a strategy for calming and improving roadway safety, while minimally affecting roadway operation. Numerous studies have tested the effects of a road diet, finding that while road diets typically slow down vehicle speeds, they often have little or no effect on level of service when the average daily traffic (ADT) is 20,000 vehicles per day or lower (though road diets can work on roadways with over 20,000 ADT).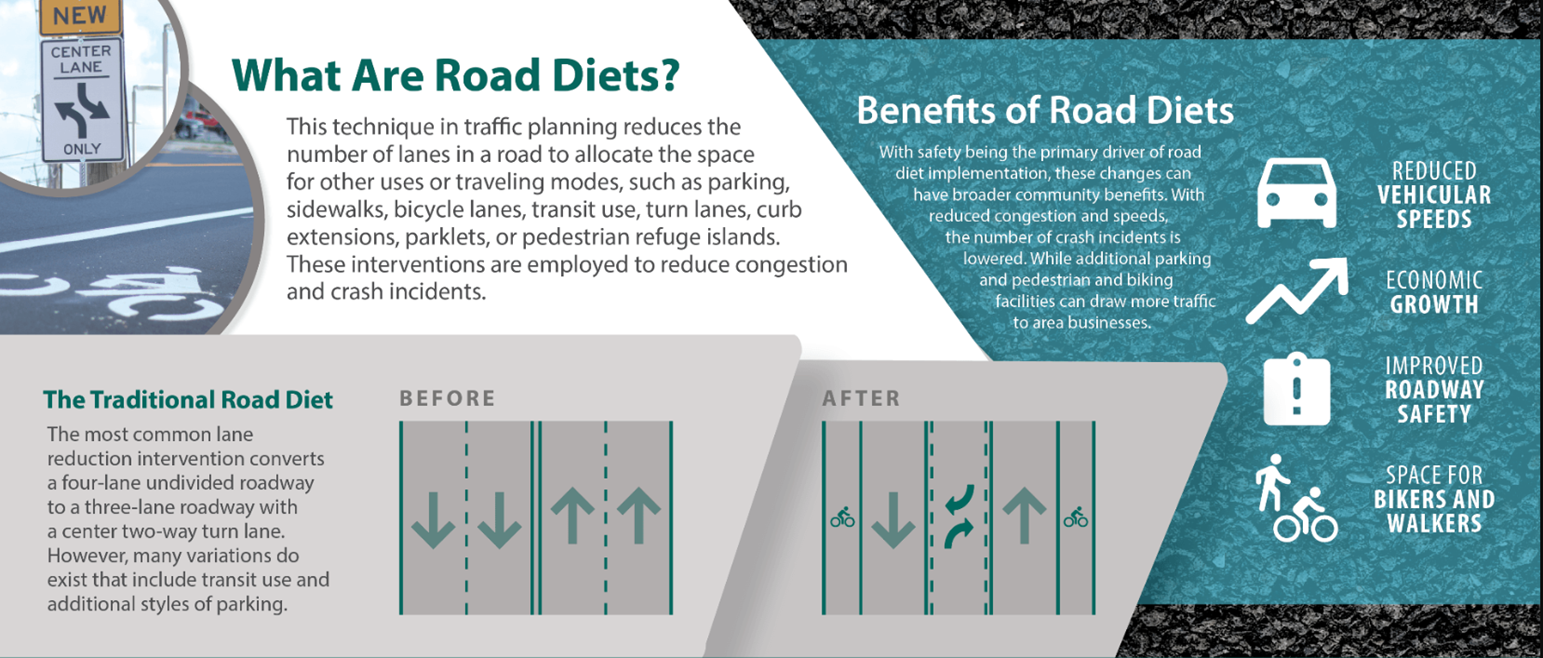 Please note that the road diet illustrations above DO NOT depict the proposed improvements to Bethlehem Pike.